A gentle, old-fashioned Christmas tale, beautifully illustrated. This story of a young girl's wish for snow becomes a magical adventure into a mysterious and snowy land. In a heart-warming conclusion, Katie is given a gift more special than the gentle world of falling snowflakes.
"Dear Sarah,
I was given to your great great grandmother when she was a small child, so please handle me with care for I begin to feel my age. She named me Elizabeth."
The doll is old and fragile. She has had many adventures, one which changed her. Elizabeth is now not only old, but very wise.
The story of the porcelain doll is part of the life of Helen Stewart. Into the tale are woven memories, dreams and images, especially of her children and grandmother.
This is a story of a brave puppy whose delight in life contributes to his own healing.
It is a tale of going to the hospital to get well, and also a tale of friendship and its power to heal. It is a longing for community – doctors, nurses, friends and family – all working together to help their patient.
This story will touch your heart and brighten your spirit. The gentle images will evoke dreams of childhood and a time of trust and protection.
This timely tale chronicles the life of a Sitka spruce from before the arrival of the first European settlers until its stormy end under a changing climate. Despite all, the song of the Sitka lives on. Its story will compel children and adults alike to pause and contemplate the harmony of nature.
Andrew Weaver, author and educator; team member of the Intergovernmental Panel on Climate Change (co-winner of the 2007 Nobel Peace Prize)
The Little Hill is the story of one small hillside, reflecting the stories of many other hills and landscapes.
Each page of The Little Hill is illustrated with great care and fine detail. These images compel us to stop and ponder anew the intricacies of nature. The tale leads us to consider the changes inflicted on our natural world, their effect upon our earth, and upon life itself.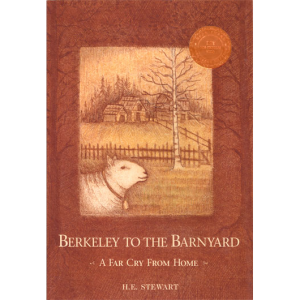 This is an artist's story of stepping into the past, living on an isolated northern farm, far from home. It is the tale of one woman who learned to face the challenges of living on her mountain farm with patience and good-natured humour. Over time, she learned also to care for the sheep and other animals, and to appreciate the beauty in her extreme environment.
The story is told in both words and pictures, speaking to the heart, an illustrated adult storybook infused with a gentle but triumphant spirit.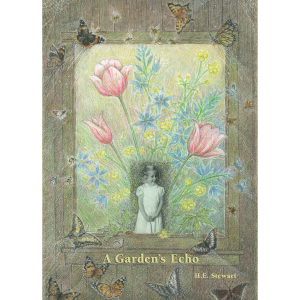 Helen Stewart is an artist who loves gardening and a storyteller who loves making books.
A Garden's Echo, like her memoir Berkeley To The Barnyard, is an illustrated adult storybook.
It tells of a personal journey and discovery of fascinating family history. A Garden's Echo is also a reflection on the mysteries of nature. Its message is of critical importance in today's world of serious environmental troubles.
The book is richly illustrated, rilling the pages and the senses with beauty. The paintings are many layered, multi-textured and finely detailed - like nature itself.
Creation through Colour by H.E.Stewart is a colouring book in a class by itself.
This is a lovely 60 page colouring book for all ages. Helen encourages colourists to look at nature more closely, to colour creatively and to make their own drawings. The book is printed on good quality acid free paper, suitable for coloured pencil or watercolour paints.
By drawing, you may learn to see
and by seeing, may you come to know
the beauty of nature.
Try to keep this beauty in your mind
and may your heart forever feel
the nourishment of the earth.
A plea for the celebration of gardens and the wonders and wisdom of nature, this work is a spiritual and artistic meditation describing the creation of a garden, its seasons in a time of changing climate, and the importance of life-giving soil and water.
It speaks of favoured individual plants (from dandelions to roses), children's literature, farm gardens to white gardens, bees and butterflies.
It concludes with practical and optimistic solutions that will help to protect our land. Allowing ourselves to be drawn into the garden, instead of giving in to despair, will enable us to take part in the natural rhythms of the earth and the ancient mysteries of life. Working in our gardens will, without doubt, return health to the soil and hope to the gardener and the world.
Email:
Phone:
1-250-477-1034
Mail:
Helen Stewart
2875 Tudor Avenue
Victoria, B.C.
V8N 1L6
CANADA